2016 Composers
Sarah Quartel - Canada
Canadian composer, conductor and educator Sarah Quartel is known for her fresh and exciting approach to the choral experience. Sarah celebrates the musical potential of all learners by providing singers access to high quality repertoire and engaging music education. Her works are performed throughout the world and her curriculum documents are used to connect the excitement of choral festivals with meaningful classroom learning.
Sarah's compositions have been featured by groups such as the National Youth Choir of Canada, the Nathaniel Dett Chorale and the a cappella group Rajaton. In summer 2014, Sarah's work "Snow Angel" was performed at the prestigious World Symposium on Choral Music in Seoul, South Korea. In 2015 her ACDA commissioned work "Wide Open Spaces" will be receive its premiere performance under the baton of Bob Chilcott at the American Choral Directors Association national conference in Salt Lake City.
Other credits include: Inaugural Composer for the Edge Island Festival for Choirs and Composers; Composer-in-Residence for the women's vocal ensemble Project Sing!; works recorded on multiple commercial releases; and a host of choral commissions and performances including those by award winning Canadian conductors Zimfira Poloz and Brainerd Blyden-Taylor.
Sarah is published with Oxford University Press, an educator in Eastern Ontario and a regular guest clinician at various music education and choral events internationally.
Tobin Stokes - Canada
Tobin is originally from Powell River and has been premiering commissioned compositions with the Powell River Academy of Music since 1990.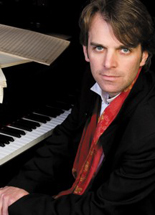 From single choir works to fully staged productions with massed choirs and orchestra, his affiliation with both Kathaumixw and the Symphony and Opera Academy of the Pacific (SOAP) has been fruitful. His commissioned works for the academy's choirs have led to premieres in Venezuela, the Czech Republic, Sweden, Mexico, France, and England.

From years of experience as a performer in many genres, Tobin is comfortable working in a variety of styles. He is a prolific composer for film, theatre, opera, orchestra, chamber ensembles, and large events. His music for television has aired on all the Canadian networks. He has been commissioned by CBC, Ballet British Columbia, the 2010 Olympic Bid, the BC Choral Federation, the Victoria Symphony, the Vancouver Youth Symphony, The XV Commonwealth Games, and many others.

After living in Vancouver, Toronto, the Gulf Islands, and Montreal, Tobin returned to the west coast of Canada. He lives in Victoria, B.C. with his family, where he is a Composer-In-Residence with the Victoria Symphony.